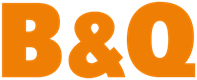 California Shutters have been retailing quality DIY window shutters throughout the UK & Europe since 2002.
In 2008 they were delighted to be chosen as the exclusive supplier of window shutters for B&Q and their customers. California shutters are featured on the B&Q site and we are thrilled to update that there are imminent plans to add in-store shutter display units to their key stores throughout the UK.
As you would expect from any B&Q associated product, our bespoke shutters are made to the highest standard and are identical to the plantation shutters you purchase from a full measure and installation company, the only difference being the substantial saving on price because you did it yourself!
All DIY wooden shutters from B&Q and California Shutters are made from 100% premium hardwood or waterproof polyvinyl.
Both partners manage to keep the pricing simple by charging customers by the square metre size. There are no extra charges for shutter design, hinge colours or the panel and rod designs.